You set the rules, we help enforce them
With so much of every day life now conducted online, from work to school to leisure activity, it's increasingly important to put parameters around online activity.​ Only $5 a month with any InfoWest internet service.
We empower you with flexible home network controls
With ExperienceIQ®, you can easily create and enforce online rules for the users and devices in their home networks. It provides you peace of mind by protecting your children from inappropriate or harmful content and allows you to set time limits and to prioritize applications and devices on the home network that access the home Wi-Fi. This is especially important for when work from home. When enabled inside the Calix CommandIQ app, ExperienceIQ allows you to create a profile for each member of the household and then associate specific devices with it.

Using ExperienceIQ, you can:
Receive a view of the approximate time each user spends on different applications.
Use content filtering to ensure the online safety of their children and other family members.
Schedule times to prevent family members from accessing the internet or specific applications.
Set the duration for how long individual applications can be used.
Prioritize applications and devices on the home network that access the
home Wi-Fi.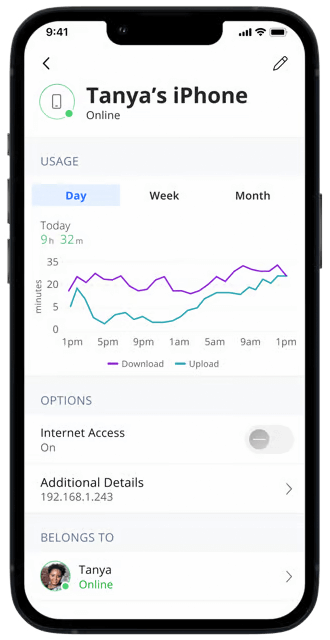 The InfoWest Connect Plus App
An intuitive, easy-to-use mobile application that puts the power of InfoWest at your fingertips!
Connect Plus allows subscribers set up a guest Wi-Fi network, set parental controls, provide basic policy management, and associate devices in the network to household members.
All for only $5/month!